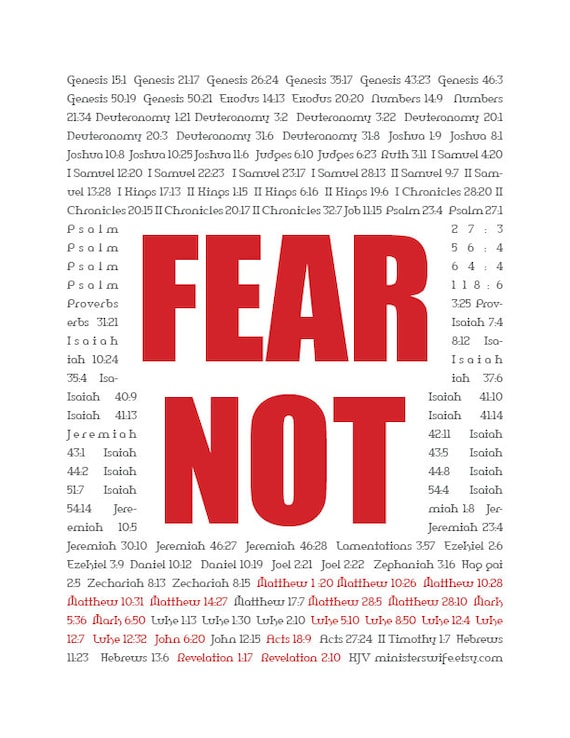 I was pleasantly surprised to read somewhere that God' assurance, "Do Not Be Afraid" was written 365 times in the Bible; that's a daily reminder for us from God to live fearless everyday. Out of curiosity and accountability, I did a simple search online, and it seems that the most hits I have gotten was only about 144 "Fear Not", found in King James Version, see here. I was a little disappointed by this romantic myth, although it seems difficult to verify conclusively. I know there are other verses that probably meant the same thing but phrased differently, like "Take heart", "Take courage", "Be strong", "Be still", "Do not be anxious", "Whom shall I fear?",  etc.
Anyway while pondering, I was reminded on the inside to be thankful, nevertheless, on the vast numbers of "Do Not Be Afraid" mentioned in the Bible. Frankly, I was hoodwinked by the shortfall in numbers, instead of giving praise to the huge numbers of divine assurances God, the Father has given us in His Word. I mean, think about it, how many other literatures, religious or otherwise, (if there is even any at all) gives you as many assurance and comfort? How many other gods/faith dared promise what our Father has promised us? And how strongly these promises are given? None that I know of.
And here I am, thinking like a spoiled brat, just because my Math doesn't add up.
Fear not [there is nothing to fear], for I am with you; do not look around you in terror and be dismayed, for I am your God. I will strengthen and harden you to difficulties, yes, I will help you; yes, I will hold you up and retain you with My [victorious] right hand of rightness and justice.   Isaiah 41:10
You see, God not only gave His assurance and comfort (as recorded in the Bible) so many times; equally important is also the way He would assure us. He would always staked Himself into assurance turning it into a promise, guaranteed by Himself; not empty comforting words. He is not remote, aloof and faraway. God's promises to us are always personal and always backed by Himself – the best evidence is found in Jesus Christ at the cross.
There are no romantic myths in Bible, only real ones, promises by a real personal God…
 Give all your worries and cares to God, for he cares about you.  1 Peter 5:7